Dragons' Den 6x9
Theo Paphitis' Story
Series revealing the lives of the Dragons' Den dragons. How did they make their millions? And what are they really like?
In the first of the five programmes focusing on the dragons, we are on an access-all-areas journey into the life of Theo Paphitis. We hear what Mrs P and the children, whose inheritance he keeps spending, think of him; we also get a quick peek into the luxurious lifestyle of a multi-millionaire businessman. While Theo rebuffs the notion that he is the classic rags to riches story, we gain a valuable insight into how his upbringing influenced his business career, get some tips on what it takes to be a future dragon and find out what his rival dragon investors really think of him.
We also discover how some of his most memorable Den investments are getting on, including iTeddy and Ben the Bin, as well as hear from one entrepreneur who accepted an offer from Theo inside the Den, but in the end chose to walk away from the deal.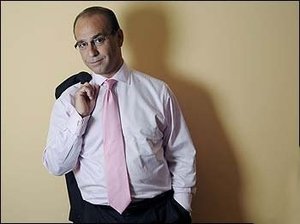 Oct. 26, 2008